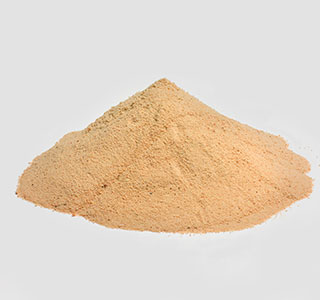 AMINO ACID
60%
Amino Acid 60% is a biofertilizer in powder form, produced enzymatically and derived from soy protein, with a guaranteed minimum of 14% of plant- available nitrogen.
Amino Acid 60% contains amino acids and short polypeptides readily available for nutrient uptake and absorption. It is highly recommended for organic agriculture as it is rich in protein hydrolysates, which stimulate carbon and nitrogen metabolism and increase nitrogen assimilation in plants.
It is suitable for application on field crops, potting soil, vegetable and flower gardens, orchards and turf grass.
Guaranteed
Analysis
Total Nitrogen (N) ........14%
BENEFITS:

Improves nitrogen uptake

Enhances tolerance to biotic and abiotic stress

Stimulates plant growth

Can be applied in leaves as foliar fertilizer
Packaging:
20 kg sacks/boxes, 1,000 kg /pallets or 500 kg super sacks
PRODUCT LABEL
INTERESTED?
Find a distrubutor for
MYCSA AG's organic products for agriculture in your area.
Or if your business is interested
in being a part of out network of distrubutors, please contact us.
Questions?
WE´RE HERE TO HELP.